If you are a professional cybersecurity consultant with clients (or seeking clients!) who are contractors or sub-contractors to the United States Government, then we welcome you to CyberConfirm PRO!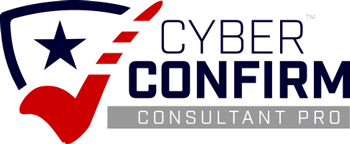 Here you can purchase CyberConfirm's easy-to-use NIST Compliance Documentation PRO software, licensed for use on behalf of those types of clients.
Here you can gain a listing in the CyberConfirm Consultant Directory, where U.S. Government contractors and sub-contractors can learn more about you and consider you for hire.
Here you can read Consultant Intel, CyberConfirm's up-to-date news and notes from cybersecurity expert James Linlor directed specifically to cybersecurity consultants.
And here you will access bonus materials like cyber-consultant contract templates, marketing tools and other business benefits.
How do you get started with CyberConfirm PRO? By purchasing a one-year license to the CyberConfirm PRO Package.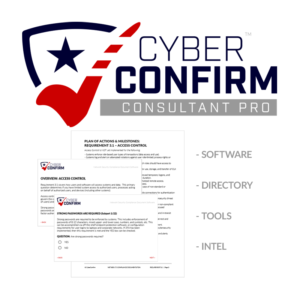 The goal of our Pro Package is to provide cybersecurity professionals with the tools, backgrounders and methods needed to assess and provide guidance to U.S. Government Contractors.
Each article in CyberConfirm's Consultant Intel series will address the activities, suggested methods and reasonable care that can become a launching point for you to deliver service to U.S. Government Contractors. We will address how to implement NIST 800-171, and provide tools and links to resources as the regulations and NIST guidance evolve.
The NIST 800-171 requirements encourage Contractors to evaluate their cybersecurity postures. The enforcement side of these regulations mean that if you can provide a competent and reasonable cybersecurity service within a "best efforts" framework, and create documents that protect you from undue liability, then you can focus on this government and military contractor market. Consultants with cybersecurity skills certainly are in great demand in this market!
We're excited that you are interested in CyberConfirm PRO, and we welcome your feedback to provide the most constructive and adaptable tools and guidance for your ongoing cybersecurity practice.